Our Smart IT Documentation service offering provides a comprehensive and streamlined documentation solution for businesses of all sizes. We create detailed and organized documentation, including network diagrams, system configurations, troubleshooting guides, and more. We simplify your IT operations and enhance efficiency with our tailored documentation services.
We believe attention to detail is very important for your systems to operate effectively, as a result we create detailed and organized documentation, including network diagrams, system configurations, troubleshooting guides, and more.
The primary features of our Smart IT Documentation offering are outlined below:
Simplify your world by bringing order to chaos
Ditch the spreadsheet and siloed tools – confidently know what assets you have, who has your assets and where your assets are, minus the financial and technical burden.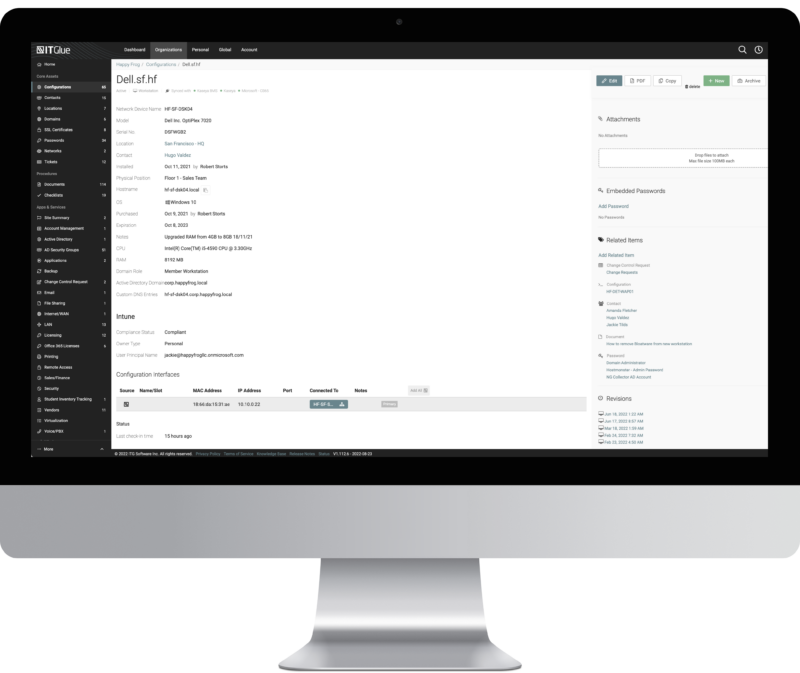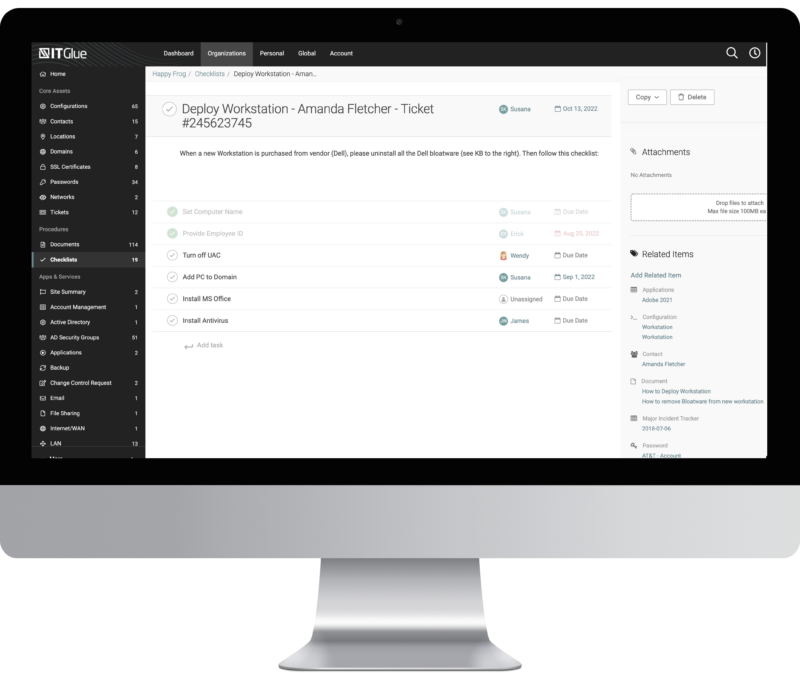 Knowledge you need, when you need it
Everything you need to know is just a click away. 100% assurance that all knowledge is documented so there's no single point of failure.
Time to step off the hamster wheel
Buy back your time to do what you enjoy with standardized and repeatable processes so you can step back from the day-to-day tasks.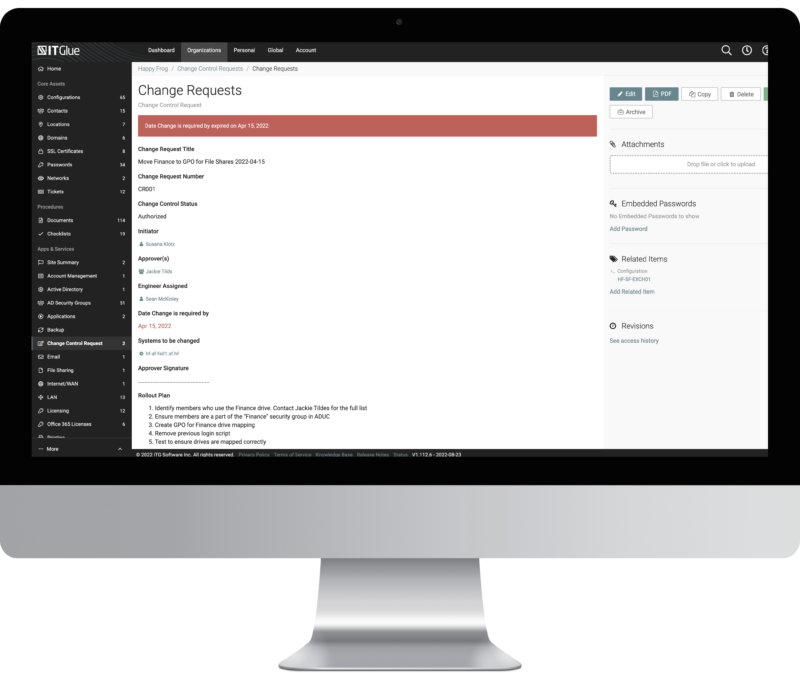 Complete confidence in understanding everything about your IT infrastructure and everything in between…
Asset Management

Have a unified and up-to-date inventory of all IT assets, including workstations, servers, network appliances and IoT devices, in one single pane.

Software License Management

Reduce software spend by easily tracking active, consumed and unused licenses.

Knowledge Consolidation

Consolidate IT information from SharePoint, Confluence, OneNote, Google Drive and more into one, so anyone on your team can find it.

Secure Password Management

Store and access passwords securely and easily, including shared administrative logins with a one-time password generator, role-based permissions and enterprise-grade security.

Knowledge Management

Make processes repeatable by creating and storing your Knowledge Base and SOPs centrally.

Vendor Management

Manage your third-party vendor relationships easily by centralizing vendor contracts, relationships and risk scores in one platform and location.

Process Management

Streamline routine tasks, track progress and ensure accountability with checklists. Easily get started with out-of-the-box checklist templates.

Advanced Integrations

Automatically document asset information with in-depth visibility from multiple data sources, including Intune, ServiceNow, Jamf, Microsoft and Active Directory.

Automated Network Discovery

Automatically discover detailed network information, including network devices, virtual machines, network connections, ports and Azure & Active Directory.

Smart Asset-Relationship Mapping

Empower your team to self- serve and reduce research time by contextually linking assets, passwords, SOPs and more in one pane.

Enterprise Grade Security

Safeguard your data with MFA, SSO, IP access control, host- proof hosting, version control, audit trail, permissions and roles, all within a SOC 2 Type II compliant solution.

Automated Domain & SSL Tracking

Fully automated, proactive tracking of upcoming expires so you never miss a renewal again.

Accessibility

Securely access information without leaving any webpages with Browser Extension or our mobile app.

Documentation Culture

Instill a culture of documentation excellence by measuring, rewarding and gamifying documentation.